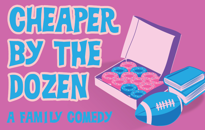 My Three Angels
Williamsburg Players: Nov 8th-24th
Click here for more information.
Or call 804.529.9345 for tickets.
Cheaper by the Dozen was a novel published in 1948 by Frank Gilbreth Jr. and Ernestine Gilbreth Carey. It is a semi-autobiographical telling of growing up in a home of thirteen children, with their father, Frank Sr. as the family patriarch. Frank Sr. is a pioneer in Time and Motion Studies and a consultant that helps apply this study to business practices. The story accounts his attempt to apply this same acumen to his family, and encourage his children to excel in their studies and their efficiency in their everyday lives. The story is whimsical and a touch tragic. The performance at Williamsburg players that I had the pleasure of attending was a delight and managed to surprise me.
This version of the story was adapted for the stage by Christopher Sergel in 1992. It was later adapted to a musical, but this production is a standard stage play. Julie King was the director, and chose a cast that seemed to work well together. The late W.C. Fields was once quoted as saying "Never work with animals or children." Julie ignored his advice, and managed to make both work on the Williamsburg Players stage. Though only appearing briefly twice, one of the biggest reactions from the audience was for Gemma the Dog, a Cavalier King Charles Spaniel, and I'm willing to guess that she was the most popular cast member.
The set was elegant, with fine decor placed strategically around the stage, but some of the walls of the Gilbreth home were a little spartan. My only suggestion would have been to just add a few more wall hangings and pictures. In any event, this doesn't distract from the performance, and is easily overlooked. I will also say that the glass french doors on stage right were a nice touch. The program indicated that there were a large number of cast and crew that pitched in with the build of the set, and it definitely paid off.
The lighting was perfectly functional soft white lighting. There were few lighting transitions, and that worked very well for this particular performance. I didn't witness any technical errors in either lighting or sound during the show, so hats off to lighting designer, Bill Coppedge and sound designer John Trindle.
I have few complaints about costumes, but there are a few things I want to point out. I will say that the costumes all seemed to fit the time period well enough, and looked like they were well maintained. Neil Hollands pretty much wears the same outfit the whole show, which was not a bad thing. It looked good on him, but his coat seemed like it was oversized on him. Also, one of the youngest cast members was given a wig to wear. It looked very cute on her but was a little frizzy looking. She might have been better off without it.
The cast did an excellent job of keeping the dialogue flowing. There was none of those awkward pauses between lines that you tend to see with performers that are new to the stage. The younger cast members did a fine job keeping up with the adults. I did catch a few of them from time to time looking at the audience though.
Top performers for this production include Neil Hollands and Frank Gilbreth Sr., who drives the show with his charisma and stage presence. Also playing the part of Anne, the oldest of the siblings is Brooklyn Gilliam. She gave a very genuine and passionate performance. Ronnie Littman exploded onto the stage for a very short time as Joe Scales. He left the audience and myself wanting more.
I have to say, that this play has the potential with such a large cast of young people to go south quickly. Fortunately, that didn't happen during this performance, as all said younger actors seemed to be able to go toe to toe with the adults.. Everybody involved seemed very professional, and definitely made for a pleasant evening out.
Tickets are still available for the remaining performances. Go see it, by Jingo!
Words by Adam Stillwell. Photos by MJ Devaney.