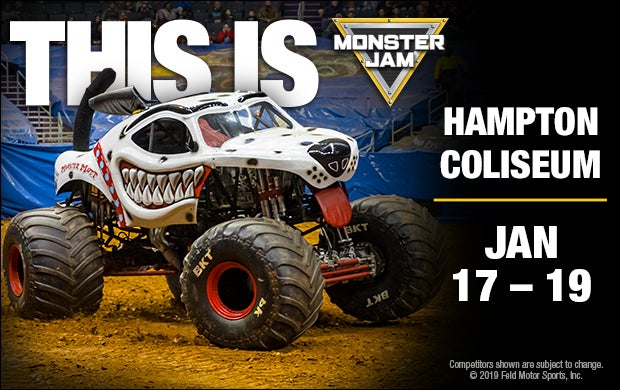 Monster Jam
Hampton Coliseum through Sunday, January 19
Click here for more information / tickets.
Monster Jam is at the Hampton Coliseum through Sunday, January 19. For the uninitiated, the Coliseum puts loads of dirt on the floor and creates a six-sided hill in the middle of the floor. Wildly decorated trucks with giant tires zoom, jump, flip, twirl and sometimes crash all over that dirt floor.
Sounds like fun? Yep, and there's more. These trucks have names, like the wildly popular local favorite Grave Digger, coming to the Hampton Coliseum from just across the border in North Carolina or Monster Mutt Dalmatian, a big truck with black spots and a tail.
The trucks race around the floor of the Coliseum for points. They compete in acrobatic contests of grace and beauty, truck style. That means it's loud and gravity defying. A big truck with giant tires can balance on the rear two wheels and right itself, or flip right on over and require the assistance of an articulated forklift to be flipped back, minus a bumper, but ready to go again.
All of this is lots of fun and great family entertainment, but could Monster Jam also be educational? Could your kids get a little something more out of Monster Jam? I have a background in education, two Masters Degrees and 35 years of experience teaching children from ages 2 to 12. Not bragging, but I know children – how their brains absorb knowledge, what excites them to learn and what doesn't, what makes them dive deeper into a subject.
I took my eight-year-old grandson Joe and his friend Parker to Monster Jam last night. Joe has been before. He loves it. He has never been a boy who is obsessed with cars or trucks. He never had a collection of toy trucks. He is sensitive to loud noises. Monster Jam is very loud. Tip: bring ear protection for your little ones and ones who have sensitive ears.
I wondered why he begs to go every time it comes to town. Joe is in second grade. His friend, Parker, is a third grader. They put on their ear muffs and got ready for the action. We had a mini human anatomy lesson on the need for ear protection before they put on their ear protection and couldn't hear me.
Is Monster Jam educational? Definitely. Both Joe and Parker loved the interactive element in Monster Jam. The audience scores most of the events through a website called judgeszone.com that gives immediate results. Joe and Parker are too young for their own smartphones, but we got them set up on our phones and they were ready. There was time for a little lesson on scoring and averages. We quesstimated the number of people in the Coliseum and the number of people that would be voting.
There was a short Civics discussion when it came time for the National Anthem. Joe wanted to know if his ear protection counted as a hat. Should he take it off during the National Anthem? I'm going to have to look that one up.
There was a lot of math going on. The winner of each event scores eight points. Second place scores seven points and so on down the line. There were five events. I let them do the math. Joe was rooting for Grave Digger. Parker liked the reigning champ, Scooby Doo.
This feminist Nana made sure the boys knew that the driver of Scooby Doo is Linsey Read. Women and men compete on equal footing in Monster Jam. That must be Civics too.
One of the most fun events was the free style motocross. It took a bit to set up, but there were a few teachable moments during the set up. There is a ramp and a landing pad. The drivers carefully measured the distance between those two. They brought out an instrument to measure the angle of the ramp, they measured it several times before we even knew what was coming. The boys speculated. Were the giant trucks going to jump this ramp? How could they ever fly the distance between the ramp and the landing pad? I don't know a lot of Physics, but Joe and Parker were doing some heavy duty hypothesizing.
It was the tiny, but powerful motocross bikes that flew in the air. The drivers flew too, sometimes letting go of their bikes altogether, but somehow landing safely every time. The boys were so entranced, they almost forgot to vote.
The last event of the evening is the freestyle, where the Monster Trucks get to show off all their tricks. As the boys tallied up the score in their heads, Parker's favorite, Scooby Doo was the winner. Lindsey Reed popped out of the driver's side window to take a bow. Parker announced, "This was the best Friday night of my life!!" They talked about the scores all the way home in the car.