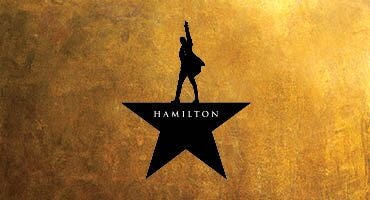 Hamilton
Chrysler Hall: Dec 10 - 29.
Click here for more information / tickets.
They call themselves Hamilfans, Hamiltonians, Hamfam or sometimes even Hammies. Whatever they identify as, they (and almost everyone else) are thrilled that the Broadway megahit, Hamilton, has finally made it to Norfolk.
It's a long run. Hamilton will be at Chrysler Hall now until December 29, with a cast break for Christmas Eve and Christmas Day.
You've been living under a rock if you have not heard about Hamilton. It debuted off Broadway, totally sold out, in February of 2015. The musical, with book, lyrics and music by Lin-Manuel Miranda and starring Lin-Manuel Miranda, moved to Broadway later that year and went on to win 11 Tony Awards. The show is going strong. It's still playing on Broadway, no longer starring Miranda, and touring throughout the country.
The show is based on the 2004 book Alexander Hamilton by historian Ron Chernow. Miranda took the facts about Hamilton, one of the Founding Fathers and our country's first Secretary of Treasury, and made history wildly entertaining. Everyone who was anything back then is on stage in Hamilton. George Washington, Thomas Jefferson, Aaron Burr, Marquis de Lafayette and King George III himself rap out their roles in the creation of our country.
I spoke to Zoe Jensen, who sparkles in the role of Eliza Hamilton, Alexander Hamilton's wife and one of the Schuyler sisters. I asked her why she thought this show has turned into a cultural phenomenon and why my eleven-year-old granddaughter and all her friends are obsessed with it. My granddaughter, Rachel, knows every word, every song and made me promise a year ago that I would take her to see Hamilton when it came to Norfolk.
Jensen is delighted at the legions of fans. She says there is "something for everyone" in the show. "It tells a true story with flair and unbelievably catchy music. It's fun. People who love history, love the arts, love rap, and love live theater love this show."
The female characters in Hamilton are strong. Jensen points out that "back then, women weren't allowed in the room" with the Founding Fathers, but they voiced their opinions back at home. Eliza Hamilton has strong moral values, but is not submissive. Alexander Hamilton is driven to succeed, but she is his constant reminder to stay present, stay focused and work toward the good of the country.
Spoiler alert – Hamilton is shot in a duel by Aaron Burr when he is 47 years old. Eliza went on to live 50 more years. She worked to keep his legacy alive but also created a legacy of her own. There's a great number in the final act, "Who Lives, Who Dies, Who Tells Your Story" where Eliza sings out her many accomplishments. She went on to speak out against slavery, raise money to construct the Washington monument, establish the first private orphanage in New York City, raise hundreds of children and "make sense of the hundreds of pages" of her husband's papers.
There are a few more pieces to the puzzle that contribute to the huge success of Hamilton. Lin-Manuel Miranda insisted on a diverse cast. Zoe Jensen says you will see every color on the stage. Jensen is half Pilipino from Rockford, Illinois. She memorized the sound track from Wicked when she was about the age of my granddaughter and has loved musical theater ever since.
Jensen graduated with a degree in musical theater from Southern Illinois University in Carbondale in 2018. Less than a year after moving to New York City, she was cast as an understudy in Dear Evan Hansen on Broadway. Shortly after that, she was asked to play the role of Eliza with the touring company of Hamilton. She's thrilled to see all the young (and older) people in the audience for Hamilton. She believes that the combination of a great show, "amazing energy" and social media have attracted a whole new generation to musical theater. She would love to play in Wicked someday, but right now, she is happy to be in "the greatest musical ever written."
There are still tickets available to Hamilton. For more information, click here.