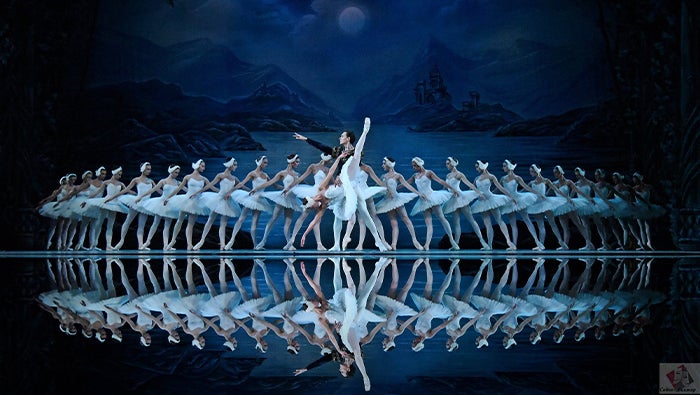 Swan Lake. National Ballet Theatre of Odessa, Ukraine
Harrison Opera House: Tue, Dec 17, 7:30pm.
Click here for more information / tickets.
I'll admit it. I'm not a huge fan of The Nutcracker, the classic Christmas ballet that you can find on a stage near you this holiday season. I've seen too many amateur performances and should give it a chance again, but I will be first in line for Swan Lake presented by the National Ballet Company of Odessa at the Harrison Opera House for one performance only on December 17 at 7:30 pm.
This is classic ballet, set to classic music, performed by a world-class ballet company. The National Ballet Theatre of Odessa, Ukraine has been performing since 1923. The first ballet they performed in 1923 was Swan Lake, set to the massively beautiful music of Pyotr Tchaikovsky.
Swan Lake is based on both Russian and German folk tales of a young prince that struggles to free the swan maiden from an evil spell. It is beautifully tragic, in the tradition of Romeo and Juliet, Sleeping Beauty and other great love stories. Love can break your heart, reverse a spell, and kill you.
This Swan Lake is a full-scale production, with 55 of Ukraine's "brightest and most talented ballet stars". Yuri Vasyuchenko is the ballet manager of the National Ballet Company of Odessa. He in an Honorary Artist of Russia and was an "exclusive" soloist for the Bolshoi Ballet. He has brought together some of the best performers, graduates of the most prestigious ballet schools from across Ukraine. The National Ballet Company of Odessa, Ukraine is "one of the most prestigious institutions of classical ballet in Russia."
They train and perform in the famed Odessa National Academic Theatre of Opera and Ballet. The theatre is a landmark in Odessa, built in the 19th century. It is fitting that Swan Lake will be performed in Norfolk at the Harrison Opera House, a landmark in Norfolk. The Harrison Opera House is quite a bit newer than the Odessa Opera House, but stunning both inside and out.
Treat yourself and someone you love to some beautiful ballet this holiday season.