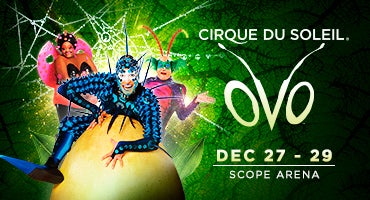 Cirque du Soleil OVO
Scope Arena: Dec 27 - 29
Click here for more information.
If you've ever been to a Cirque du Soleil show, you know there is nothing else like it in the world, and each of the twenty or so Cirque shows are unique. OVO, the 25th Cirque du Soleil live production, created in 2009 for the 25th anniversary of Cirque du Soleil will be presented at the Scope Arena in Norfolk for five performances from December 27th – 29th.
OVO means "egg" in Portuguese. Director and Choreographer, Deborah Colker and Composer and Musical Director, Berna Ceppas, are both from Brazil. OVO is the mysterious egg that appears in a fantastical world of insects. When the egg hatches, it begins the life cycle of a very "gawky and quirky" bug, who catches the eye of a fabulous ladybug. This is a buggy love story.
OVO is a Cirque du Soleil production, and that says it all. Cirque du Soleil was created in 1984 in Quebec by two street performers. Since then, it has expanded to more than twenty different live shows that tour around the world. The costumes and the sets are always spectacular. The cast and crew come from around the world. The talent of the performers is second to none. Every show is full of wow moments.
OVO is the first and only Cirque du Soleil show "completely starring bugs." There are 17 different insects in the show, including crickets, scarabs, butterflies, red ants, fleas, spiders of all shapes and sizes, dragonflies, ladybugs, mosquitoes and fireflies. No surprise, the seven-piece band are all cockroaches.
The 52-member cast of OVO come from 14 different countries. Many of these performers are world class athletes. Two crickets in the cast competed for years against each other in tumbling world championships on two different national teams. Now they share the stage as tumbling crickets.
Many of the performers grew up in traditional circus families. Qiu Jiangming, a silver spider who does amazing slackwire stunts comes from a long line of circus performers, dating back to his grandfather. His mother accompanies him on tour as his coach.
Ariunsanaa Bataa, a white spider who performs contortions, also comes from a circus family. Her father told her she was too tall to become a contortionist when she was a child. She is now "one of the best in the world".
This buggy story is woven through with all kinds of beautiful and athletic acrobatic acts. Besides slackwire and contortion, there is foot juggling, hand balancing, trampoline and rock climbing. There will be Icarian games, where the human body becomes both the catapult and the catcher.
OVO is an arena show. Arena means high, high ceilings and that means aerial stunts of all kinds including aerial straps and the very scary Russian Cradle. This is perfect for the insects who leap and fly from branch to branch or hang upside from something far away in the sky.
Liz Vandal is the costume designer for OVO. She has always loved insects. "When I was a kid, I put rocks down around the yard near the fruit trees and I lifted them regularly to watch the insects who had taken up residence underneath them. I pet caterpillars and let butterflies into the house." Vandal's signature style is inspired by futuristic superheroes and suits of armor. Mix all that up with insects and you have the colorful costumes for OVO.
It takes 19 big trucks to move OVO from city to city. This includes the hundreds of cases needed for the costumes, over 100 moving lights and 100 speakers that create surround sound in the Scope.
Cirque du Soleil OVO is performance art at its highest level and a great show for the whole family this holiday season. There are still seats available for all five performance. Go see this spectacular buggy slice of life.