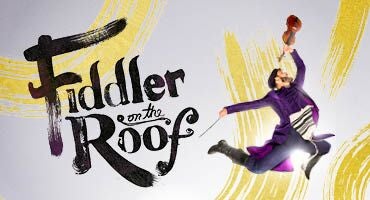 Fiddler On the Roof
Chrysler Hall: Nov 19-24
Click here for more information and to purchase tickets
.
A Broadway classic is coming to Chrysler Hall next week. An oldie but a goodie: Fiddler on the Roof.
Fiddler, as it is affectionally known, debuted on Broadway in 1964. It was the first Broadway musical to reach 3,000 performances. It held that record until Grease came along ten years later. Fiddler has been revived five times on Broadway and re-revived countless times on high school, college and community theater stages across the world.
The original show won nine Tony Awards, including a Tony Award for best musical score. The music in Fiddler is a key component in its "classic" status. You know these songs, even if you have never seen the show. Tradition, To Life, Sunrise Sunset, Matchmaker Matchmaker, If I Were A Rich Man are all songs from the show that have achieved "classic" status. I have a "hummable" test. If I leave a show or concert with a song in my brain that I can't stop humming, that stays with me for hours or even days, then that was a good show. The songs from Fiddler on the Roof tend to compete in my brain for hummable status.
Another key component of Fiddler's classic status is the story. It is based on Tevye and His Daughters by Sholem Aleichem, a famous Yiddish author. It's a love story, love between a father and his three daughters, love between his daughters and the men they want to marry, and love of customs and traditions.
Fiddler takes place at the start of the 1900's in Imperial Russia. Tevye, a poor Jewish milkman, and his family live in a Russian shtetl, where "life is as precarious as a fiddler on the roof." Changes are coming in Russia, changes that will be very bad for the Jewish community. Tevye has trouble recognizing and dealing with these changes to his community and his way of life. The conflict begins.
There are critics who believe the story for the Broadway stage has been "culturally sanitized." The original story by Sholem Aleichem ends on a much sadder note. Fiddler on the Roof, the classic musical, ends in a hopeful place, with Tevye and his daughters moving onto a better life.
The silver haired guy I live with gives a thumbs down to shows and movies that end sadly, even if that is real life. He wants to leave a theater feeling good, feeling hopeful. I see his point. There is already enough sadness in this world. Let's spend our money on something that lifts us up.
Fiddler on the Roof will do just that. You will leave humming the songs, feeling joyful, hopeful, and happy. It doesn't matter if you've already seen this show, go again. Take someone who has never seen it before. This is a perfect show to introduce a younger person to musical theater. I'll be taking my granddaughter, Rachel, to see Fiddler. Rachel's mom, my daughter Lindsey, played one of Tevye's daughters in a middle school production many years ago. I'm sure Rachel will come out of Chrysler Hall humming one of the songs.